For years, Nintendo has ruled the mobile gaming world, first with the Game Boy, then with the DS Lite. After an amazing run, though, the torch is being passed. Not to another gaming company, but to smart phone makers Google and Apple.
Over the next decade I believe smart phones will be where most gaming innovation will happen. The market for smart phone games is booming. A recent New York Times article reported that games make up more than half of the billion downloads from the Apple App Store. The App Store has about 15,000 games for the iPhone, and the Android Market has about 3,000 for Google Android devices.
Smart phone games run the gamut of genres, but here are a few interesting categories:
Location-Based Games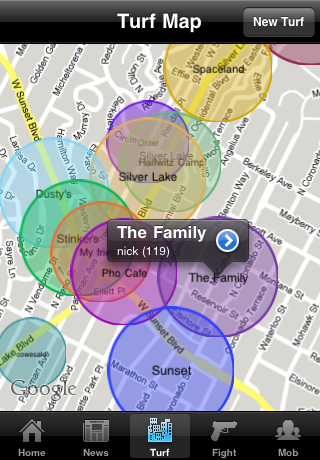 The newer smart phones have built-in GPS, and location-based games like "Turf Wars" (iPhone) and "Parallel Kingdom" (iPhone and Android) make this feature a core part of gameplay. In "Turf Wars," you compete with other local "mobsters" for control of territory. "Parallel Kingdom" is a medieval role-playing game played in a virtual world based on GPS data.
Game-like social networks such as foursquare (iPhone, Android and Blackberry) and Gowalla (iPhone, with Android coming soon) are also starting to pop up. Foursquare asks players to check-in at locations they visit to earn points, acquire badges and leave tips for other visitors. Some locations, such as bars and restaurants, will give free food to the mayor (the person who checks in most frequently).
With location-based games, it's the first time that the location of the player has had an impact on the outcome of gameplay. If you live in New York City, you are going to have a much easier time racking up points on foursquare, for instance, than somebody playing in Spokane.
Harvard University recently created a specialized version of foursquare to help students learn more about the university. It is interesting to see foursquare being repurposed as an educational tool, and I think this kind of innovation will continue in location-based gaming.
Accelerometer-Based Games
Another unique feature of the iPhone and Android phones is the inclusion of accelerometer hardware, which recognizes how the phone is being held or moved. The accelerometer is doing for smart phone games what the Wii remote did for motion-controlled console games by creating a market for games with this control style.
The accelerometer game "Abduction!" (Android) relies on the accelerometer to make a cow jump into the sky using platforms to try to reach a UFO who took the cow's friend. This is a very polished game, and I love the art direction and style. The developer really thought about how to make the game fun for everyone from kids, who can't "die" on the kids' setting, to hardcore players, who must master nearly impossible movements to get to the highest levels.
Classic Games
Smart phones don't have a lot of graphical processing power, and this makes them perfect for the classic games of yore. Games like "Pac-Man"  and "Space Invaders" (iPhone and Android) have simple control schemes, allowing them to easily port to touch screens or small keypads, along with their lightweight graphics. Using Nesoid (Android), I've played many Nintendo games on my Android, and I get a certain delight in being able to fire up "Super Mario Bros. 2" from anywhere.
These are some other games I played on my Android-powered Motorola Droid while researching this post:
"Archipelago Demo" (Android) – This is a real-time strategy game that begins with islands with growing populations. The computer controls some, and the player controls others. The objective is to send airplanes with populations from your islands to other islands until one side has control of all islands. This is a fun game, though frustrating at times, that recalls the WWII era in the South Pacific.
"Flight Director (Lite)" (Android, with similar games on iPhone) – This is a fun game that uses actual Google Earth images of airports where the player must guide passenger planes, helicopters and fighter jets to the designated runway by drawing lines with their finger. It gets hectic quickly when the player fights to keep the airspace controlled and not crash any planes into each other.
Nesoid Lite (Nintendo emulator) (Android) – This is a fantastic app for emulating Nintendo Entertainment System games like "Contra," "Super Mario Bros.," "The Legend of Zelda," etc. While the legality of emulating NES games is questionable, the app makes playing classic games fun. It has tons of great features, including screen scaling and screen rotation, though gameplay is still sort of difficult using on-screen controls and the Droid's keypad.
"Robo Defense FREE" (Android) – A tower defense game with deep gameplay and many facets to keep players coming back for more. The graphics are good, but I'd like to see a different art direction. If you are interested in tower defense games, check this one out.
Brian Johnson is a student in the MCDM program who is pursuing a career in the video game industry. His Xbox LIVE gamertag is thepiecesfit. Brian recently started Grybo Productions to author music for the Rock Band video game. His favorite video game is "The Legend of Zelda: Ocarina of Time."